How to Replace Text in Foxit Reader or Acrobat PDF Reader
PDF documents have grown to become arguably the most widely-used document format. Most businesses and people now prefer to use PDFs over Word files simply because they are easy to open on most devices. PDFs work efficiently on all operating systems because the format is easy to open, view, and share. Portable document formats are particularly useful for many companies in the business world. Whether you are sending important memos, invoicing clients, or maintaining client records in a consistent format, PDFs allow whoever is viewing the document to see it as it was intended.

It is important to note that PDF was introduced to eliminate the chances of tampering with the layout of a shared file or document. However, knowing that a document once saved in a PDF cannot be altered usually bothers so many people. Dealing with a PDF document simply means any typing errors, alignment problems, or even blank pages can't be rectified in a PDF file.

PDF documents are commonly viewed with the free Foxit Reader or Acrobatic PDF Reader. While other applications allow you to edit or replace text in your PDF files, there is no way you can replace text in Foxit Reader and Acrobat PDF reader!

If you regularly share PDF documents for business articles such as process documentation and white papers, you'll definitely need software that edits the files. And one such tool that allows you to easily modify your mistakes in PDF documents is PDF replacer.


If you didn't know, PDF replacer is a PDF text replacement application for Windows platforms. With this amazing software at your disposal, you can easily modify the targeted word, phrase, or sentence in numerous PDF files with the text you want. What's more, you can change or set the replaced text decorations and text font as italic, bold, strikethrough, or underline.

PDF Replacer is a highly versatile tool that allows you to execute a number of functions. For instance, when you only want to replace a text in a few pages instead of the whole PDF file, this application features a page range function, that allows you to replace individual pages only. What's more, it allows us to input numerous replacing at once, and will replace all text you set in each PDF document in bulk. Apart from German, English, and French languages, the PDF replacer tool also supports PDFs created in at least fifty languages. PDF Replacer is also very easy to use and nearly everyone can use it.


Below is a brief guide on how to replace text by PDF Replacer:
1- Of course, you'll have to download and install the PDF Replacer application. You need to check both the compatibility and the minimum requirements on your computer before installing the software to ensure it works as intended.

2- After successfully installing the PDF software, click on the shortcut to open the software.

3- You now need to drag and drop either a single or batch of files, according to your requirements.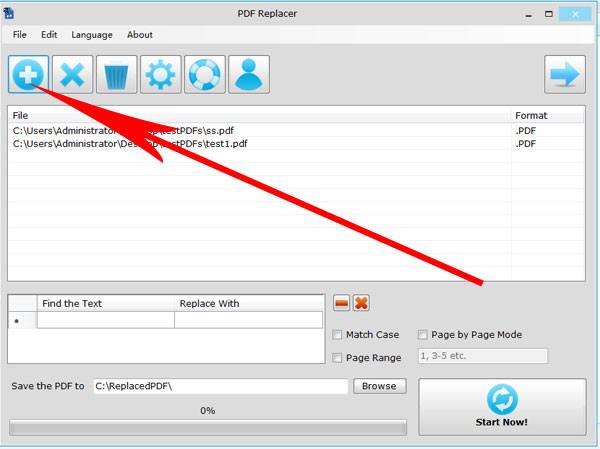 4- Key in the text to find in the PDF, as well as the replacement word that you want, are going to use in place of the unwanted word throughout the batch or a single file.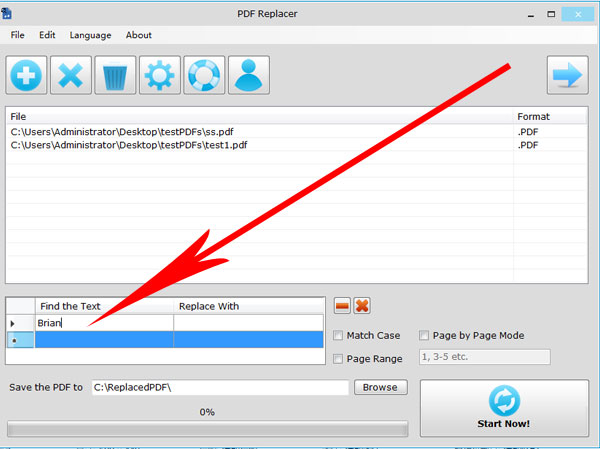 5- After this, click on "Start Now" and the modification will be done on all your files.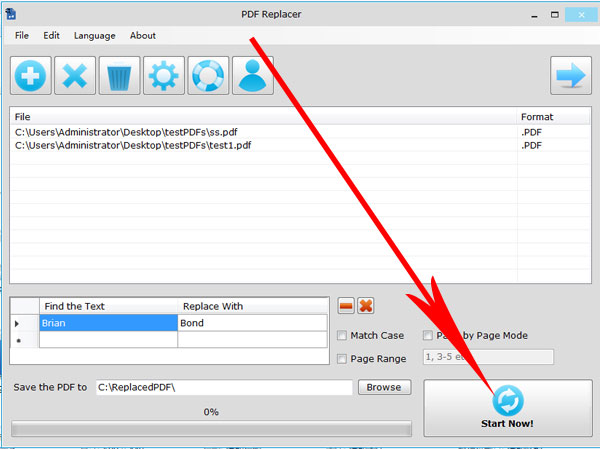 6- If you need a host of files to be replaced, please drag them all from a single folder.

7- The alterations you initiate in the customization tab will be effectively implemented in the whole batch without affecting either the design or formatting of your original PDF files.

8- Once the conversion is done, you can now save the new document and ready for use!


So, what are some of the premium features of PDF Replacer?

- It allows you to modify text in password-protected and restricted PDF documents: One popular reason to use PDF files is to protect unwanted users from accessing and editing the files. Unlike most PDF editors, PDF replacer allows you to easily edit these protected files.

- Preservation of original file layout: PDF replacer also allows you to maintain the initial layout in your modified files. This is because the application only edits what you want it to edit in your document.

- Alterations in big batches for faster and seamless edits: As earlier mentioned, PDF replacer allows users to achieve multiple changes in their PDF files depending on your needs. Modification of texts in multiple batches lets you correct your mistakes almost instantly.

- Modification of text font: Sometimes it may be essential to alter the font style of the text to fulfill the desired formal requirements. Unfortunately, it is not possible to achieve this with PDF files. Thankfully, PDF replacer gives you an option to modify your PDF files' font style.